Gas Hot Water Systems
Gas hot water systems are known for their efficiency and reliability, but of course after years of continuous operation, they may encounter some problems. But unlike their electric counterparts, gas systems are usually much easier to diagnose and fix.
The most common problems with any hot water systems is the sudden disappearance of hot water, or decreased pressure in the water output. There can be several reason for this:
No gas being fed into the house — the first thing you should do is check other appliances that use gas and see if they're working. If they are, then the problem is with the hot water system.
If it isn't, check the gas meter and valve to see if they're working. If both are fine and the valve is turned to the ON position, contact your utility company and have your gas lines checked.
The pilot light is out — this is common for storage tanks. Instructions vary depending on model so check your user's manual.
The gas supply to the water heater is OFF — if the main gas supply is on and feeding other appliances, the problem may be with the water heater. Check to see if it is getting gas from the main supply.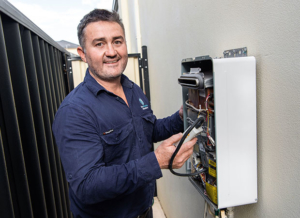 At The Brisbane Plumbers, we guarantee that we can fix any problem that you have with your gas hot water system. Our extensive experience in the industry makes us among the leading companies in the country. We specialise in sales, service and installation of every type of hot water system.
So what are you waiting for? Give our team a call now and enjoy the benefits of having trusted professionals serve you!
Please take note to have the following information on hand when asking for a quote so our customer support staff can quickly find the best hot water system solution for you:
Existing model number and brand name
Position of existing heater and access details
Suburb you live in
Product you are after (if known)
Regardless of whether you have a gas or electric hot water system, things do go wrong. If you have leaking hot water tank, a burst hot water tank, need a water heater replacement, or have a plumbing emergency, contact the team at The Brisbane Plumbers. We're Brisbane's 24/7 plumbing and emergency plumbing experts. If you have any questions or would like your hot water system checked, get in touch with the Brisbane plumbers on 0450 932 850.