Is your Stormwater Drain blocked?
Stormwater drains are designed to handle the large volumes of water you see in heavy storms. If you notice water overflowing from your gutters or water pooling out around your home, you have a blocked stormwater drain. Some of the risks identified by Brisbane plumbers include serious flooding and shifting or weakening of your home's foundation causing the wall and or house to tilt. To safeguard your home from a possible flood you need to ensure your stormwater drain is constantly clear and free from blockages.
What are Stormwater Drains?
We Brisbane plumbers see stormwater drains and sewer systems frequently confused. Stormwater drains are designed to prevent flooding by diverting rainwater to the Brisbane gutters and drains as they can handle a large volume of water. This water isn't filtered before being placed into public waterways which is the main difference between stormwater drains and sewer systems. As it is not filtered we Brisbane plumbers ask that you avoid putting harsh chemicals into the stormwater drains to clean them.
What Causes a Blocked Stormwater Drain?
Almost 95% of blocked stormwater drains are blocked by tree roots making this the most common cause. As Brisbane plumbers, we frequently see stormwater pipes blocked by tree roots. This is because root systems are drawn to the water and nutrients found inside your pipes. These tree roots aren't able to break your pipes by themselves but instead utilise small leaks and progressively make the leak larger. 
If your stormwater drains are leaking or otherwise not draining it is likely caused by tree roots. These tree roots are extremely hard to get out without the equipment of qualified Brisbane plumbers. For this reason, The Brisbane Plumbers use a hydro-jet which is the best solution in removing tree roots from your drain system.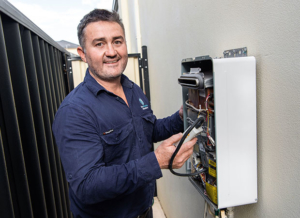 Other common causes we Brisbane plumbers frequently see include:
Sediment

Leaves

Stones

Sticks

Animals

Broken/damaged pipes

Kids toys.
If sediment, leaves, stones, sticks, animals and or kids toys make their way into your stormwater drainage system they will prevent water from flowing creating what is known as a natural blockage. 
Broken or damaged pipes are another common cause Brisbane plumbers encounter as they age similar to other products. Other than aging, poor installation can also damage your pipes so make sure to call The Brisbane Plumbers if you need to install stormwater drains or other pipes. As previously mentioned the leaks caused by broken or damaged pipes will attract over root systems creating a greater problem if not quickly fixed. If the pipes are seriously damaged then you should call The Brisbane Plumbers so we can discuss with you the best solution which may be drainage excavation.
How Do You Prevent Stormwater Drains Blocking?
To prevent stormwater drains becoming blocked the best method is to maintain them regularly. This is best achieved by getting The Brisbane Plumbers to do routine maintenance on your stormwater system. The Brisbane Plumbers have the latest equipment that gives your drains a detailed clean in a non-invasive and environmentally friendly way. In addition to this, you can regularly clean your gutters, downpipes, garden clippings, cuttings and other small objects that will get washed into your drainage when there is heavy rain.
Is your Stormwater drain already blocked?
If so the flooding will get progressively worse with every downpour. With enough overflow, your house will be at risk of flooding which can damage the foundation. To get rid of the problem give The Brisbane Plumbers a call and we'll use the latest hydro-jet draining technology to remove tree roots and other debris from your drain. This technology will reach even the furthest places in your drain, removing the need to rip your pipes out. After using the hydro-jet to clean the drain we Brisbane plumbers will utilise a CCTV drain inspection to confirm that the drain is perfect. If necessary, we Brisbane plumbers can perform pipe relining to get the best result.
Drainage Excavation
As a last resort, for when a blockage cannot be cleared or the stormwater drain is beyond repair, drainage excavation will be required. This process requires serious machinery and trench digging so we Brisbane plumbers generally use it as a last resort. 
Is your Stormwater Drain blocked?
Blocked Stormwater drains are a common problem seen by The Brisbane Plumbers. As this problem should be addressed straight away you may want to utilise our blocked drain services. If you have any problems or concerns about your roof leak, contact The Brisbane Plumbers. We are Brisbane's leading emergency plumbers. We're available 24 hours a day, 7 days a week, any day of the year. We also have a 60 minutes response time guarantee. Call now on 0450 932 850.