With the popularity of DIY and How-To videos on YouTube, and blogs, it's no wonder more people are turning their hands to fixing their own stuff; however, many plumbing problems are best left to a professional Brisbane Plumber. Working on your own plumbing, as a Brisbane plumber will tell you, can end up costing you more than it saves you. We're not saying you need to call a plumber for everything, such as plunging a drain, but there are definitely times you should leave it to a professional Brisbane plumber. Here are some examples of things you should leave to the professionals.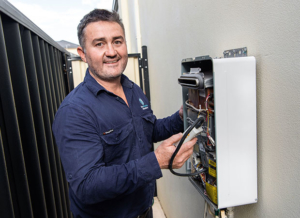 Water Heaters
Gas, electricity and water are a dangerous combination of things to work with at the best of times. It's important to get get a professional Brisbane plumber to repair, maintain and install your hot water system. Not only are there huge safety risks for a DIYer, but it could end up costing you a lot more if you make a mistake. By repairing your own hot water, you run the risk of damaging the system further and voiding your warranty. Most water heater warranties are void if your try to repair or install the system yourself. Thus, hot water system repairs are best left to a professional Brisbane plumber. 
Drain Problems
Blocked drains or sewers overflowing, are a very frustrating and stressful situation to be in. The main challenge, as any Brisbane plumber will tell you, is being unable to see the problem – as it's underground. Trying to clear the blockage blind risks the chance of causing further damage, which will be expensive to repair. On the other hand, using harsh chemicals will corrode the pipes, is dangerous for pets and kids, and may leak into the ground if the drain is leaking. Luckily, a Brisbane plumber is prepared and trained to deal with these problems. We even have special drain cameras for finding and repairing unseen problems. So, if you're experiencing a drain problem, only a professional Brisbane plumber will do. 
Weak Water Pressure
Understandably, low water pressure from your shower or taps is very frustrating. You'll probably feel like finding and attempting to solve the problem yourself. However, as a Brisbane plumber will tell you, a quick fix can often make things a lot worse. The problem may seem simple, but it could also be a fractured pipe or a worn-out water line. If you're experiencing weak water flow, make sure to contact a professional Brisbane plumber. 
Experiencing any of these issues?
There are probably other plumbing problems best left to a professional Brisbane plumber, but these are the most common. If you've experienced any of the problems discussed, or any other plumbing or gas issue, contact The Brisbane Plumbers. We have fixed costs and fast quotes, so you know what you're paying, and we'll be there within 60 minutes. Call The Brisbane Plumber anytime, any day of the year, on 0450 932 850.