We all enjoy a hot shower in the winter or a cold shower on a hot summer day. Showers also play a vital role in our hygiene. When you have a shower, however, you may be using more water than you need to get the same result. This will cause your water bill to spike when it is not necessary. Luckily, The Brisbane Plumbers have a solution. 
In Australia, the standard shower uses 250 kPa. This equates to 20 litres per minute or 140 litres on the average shower length in Australia which is 7 minutes. 
This is much more water than required and it may simply be because of an incorrect shower head. Low flow showerheads are ideal for these circumstances as they lower your water usage without affecting your shower too much. This will minimise your water bill while also being great for the environment. Talk to your local Brisbane plumber to get your low flow showerhead installed.
Saving Water from Your Showers
A low flow showerhead is a showerhead with a lower kPa or kilopascal. The showerhead reduces kPa through an internal mechanism that is designed to restrict water flow without lowering the quality of your shower. Something we Brisbane plumbers are very experienced with.
This lower kPa will reduce the amount of water wastage in your household and lower your water bill. A Brisbane plumber will measure the kPa via the flow rate. This is measured in litres per minute of consumption.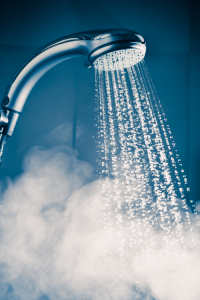 There are two types of low flow showerheads, these are the:
aerating shower head which mixes the water with air to create a type of mist that feels like a stronger flow, and

laminar-flow shower head which controls the rate of water passing through the individual streams of water. You are then able to adjust the flow depending on your needs at the time.
Benefits of a Low Flow Shower Head
A Brisbane plumber will recommend getting a low flow showerhead as it will reduce your water consumption without lowering the quality of your showers. The lower water usage will also equate to less hot water usage which is a great thing for your electricity bill. 
As a Brisbane plumber, we install high-quality shower heads all the time. This is an easy job for a Brisbane plumber and won't cost you too much to get it installed. So in the long-run, these shower heads are more than worth the investment.
Switch to a Low Flow Shower Head Today.
The low flow showerhead is a great mix of water-saving and comfort. When installing the showerhead, however, there are many factors to consider such as what valve it should be paired with and what features can be added. To get the best results, make sure to contact a Brisbane plumber. At the Brisbane Plumbers, we have licensed professionals with experience in installing all types of showerheads.
Showerhead installation is all in a days work for a Brisbane plumber. If you want to make the change to a low flow showerhead today, call The Brisbane Plumbers. We are Brisbane's leading emergency plumbers. We're available 24 hours a day, 7 days a week, any day of the year. We also have a 60 minute response time guarantee. Call now on 0450 932 850.