Welcome to The Brisbane Plumbers information page for Gas Hot Water for our customers in Brisbane. We are your trusted source for top-notch gas hot water services in Brisbane and surrounding areas. We specialize in providing reliable installation, repair and maintenance solutions for gas hot water systems. With our experienced team of plumbing professionals, we ensure that you enjoy efficient and uninterrupted hot water for your home or business. Count on us for exceptional service and expertise in all aspects of gas hot water systems.
Our Gas Hot Water Services
At The Brisbane Plumbers, we specialise in providing top-quality solar hot water solutions tailored to your specific needs. Our Comprehensive services include:
Gas Hot Water System Installation
Whether you are upgrading your existing system or need a brand new installation, our skilled plumbers are here to help. We'll guide you through the process, recommend the right system for your needs and ensure a seamless installation.
Gas Hot Water System Repair
Is your gas hot water system experiencing issues? Don't worry, our expert plumbers are just a call away. We diagnose and repair a wide range of problems, from pilot light issues to leaks and faulty components, Rest assured, will have your hot water flowing again in no time.
Gas Hot Water System Maintenance
Regular maintenance is crucial to keep your gas hot water system functioning optimally. Our team offers comprehensive maintenance services, including system inspections, cleaning and preventative measures. By scheduling routine maintenance you can extend the lifespan of your system and avoid costly breakdowns.
Why Choose The Brisbane Plumbers?
Award Winning - 5 Star Service Is Our Top Priority
Recently awarded Master Plumbers Association QLD Service Excellence Award.
Need plumbing services? Look no further – The Brisbane Plumbers are dedicated to delivering the best products and service when you need it most. Whether it's a hot water system service or replacement we can assist any time day or night. Our hot water systems and materials are sourced from reputable suppliers to ensure the job is done right the first time.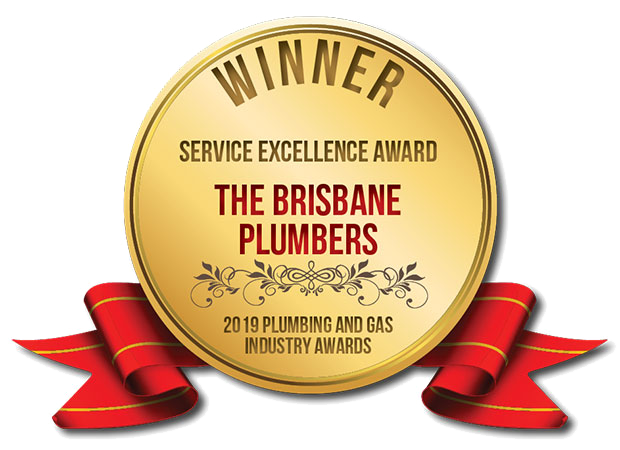 How to Choose The Right

Gas Hot Water System
Confused about selecting the right gas hot water system? Our expert guide below provides valuable tips and insights to help you make an informed decision. Discover the key factors to consider and find the perfect gas hot water system for your home or business in Brisbane.
This is our comprehensive guide on how to choose a gas hot water system. Selecting the right system is essential to ensure optimal performance, energy efficiency, and long-term satisfaction. We understand that navigating through the available options can be overwhelming. That's why we have put together this informative resource to help you make a confident decision.
7 Key Factors to Consider
Start by assessing your hot water requirements. Consider the number of people in your household or the size of your business to determine the appropriate capacity. You don't want a system that struggles to meet your demands or one that wastes energy by being oversized.
2. Efficiency and Energy Savings:
Gas hot water systems come with different energy efficiency ratings. Look for systems with high energy ratings as they consume less gas, resulting in lower energy bills. Energy-efficient systems also contribute to reducing your environmental footprint.
3. Storage vs Continuous Flow:
Decide between a storage or continuous flow (tankless) system based on your preferences and needs. Storage systems store heated water in a tank for later use, while continuous flow systems heat water on demand. Consider factors like space availability, usage patterns, and the number of outlets you need to supply with hot water.
4. Size and Space Requirements:
Evaluate the available space for your gas hot water system installation. Ensure you have enough room for the unit itself, as well as any necessary ventilation or clearance requirements. If space is limited, tankless systems can be a great space-saving option.
5. Installation and Maintenance:
Consider the installation and maintenance requirements of the system you choose. Some systems may require additional plumbing or gas line modifications. While others may need regular servicing or filter replacements. Factor in the associated costs and any specific maintenance needs when making your decision.
6. Brand Reputation and Warranty:
Research the reputation of the brands and manufacturers you are considering. Look for reliable, well-established companies with positive customer reviews. Additionally, check the warranty terms offered by the manufacturer to ensure adequate coverage and support.
7. Professional Installation:
Gas hot water system installation should be carried out by licenced and experienced plumbers. Engaging a qualified plumber ensures proper installation and compliance with safety regulations. And optimal system performance. Seek recommendations or choose a reputable plumbing company to handle the installation for you.
Choosing the right gas hot water system involves considering your hot water requirements, efficiency, storage preferences, space availability, maintenance needs, brand reputation, and professional installation. By carefully evaluating these factors you can make an informed decision and select a gas hot water system that meets your specific needs and delivers long-lasting performance.
When it comes to gas hot water services in Brisbane, trust the experts at Gas Hot Water Brisbane. We are committed to delivering reliable solutions that meet your specific needs. Whether you require installation, repair, or maintenance services, our team is here to assist you. Contact us today to schedule an appointment or request a callback.
Have some questions about the right system for your home?
Get In Touch!
Contact The Brisbane Plumbers Any Time, Day or Night

QBCC Lic 15066452
ABN 618 035 886
Brisbane, QLD 4034