When searching under the kitchen sink, you notice that the metal hose is leaking. The smell and wet patch make you wonder how long it's been leaking. A similar scenario plays out in everyone's house at some point.
Flexible braided hoses are one of the most common causes of water damage in Australian homes. In 2016 they accounted for 20% of water damage claims in Australia. Luckily, there are many things you can do to replace the hose under your sink.
Why Is The Hose Under My Sink Leaking?
Flexible hoses can fray when they rub against each other. This is especially common as the hose moves when you turn the tap on and off.
This damage will eventually lead to a gap in the hose that water can escape through. If done right, however, this damage should never occur.
The two main factors that cause the flexible hose to fray are:
They were incorrectly installed
The flexible hose is of poor quality
So let's go into these two factors in more detail.
1. They were incorrectly installed
When working underneath a kitchen sink, the plumber and tools are limited by space. That prevents the plumber from using many of their tools, making tightening the hose connection difficult. If the connection isn't properly tightened from the start, it will eventually loosen until it leaks.
2. The flexible hose is of poor quality
Among flexible hoses, there is a major difference in quality. Poor quality hoses use lower grade metal and tubing. This can lead to rust and fraying.
If you get high-quality hoses, rust and fraying are much less likely to occur.
Is This Important?
A leaking flexi hose can be serious. Once the steel lining frays, it will expose the rubber tubing underneath. This rubber tube lining will then expand and burst.
A broken hose can expel as much as 1500L an hour, damaging your house in no time.
Water damage can put your entire house at risk. If you notice a leak in your flexible hose, make sure to get it fixed straight away. You don't want to risk damaging your house and losing a large amount of money fixing it.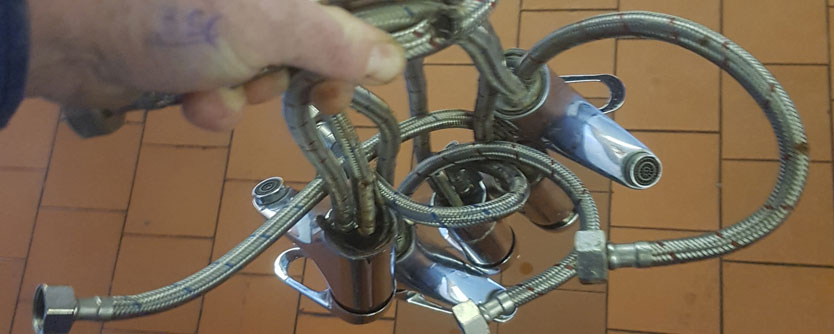 How To Stop The Flexible Hose From Leaking
There are a lot of ways to stop a flexible hose from leaking. If the leak is serious, turn the main water supply off and call an emergency plumber. If the leak is slow, try following the steps below:
Catch the drips with a bowl or bucket and use a paper towel to soak up the surrounding water.
Find the source of the leak and if it's the connection, try tightening the connection.
If the leak isn't from the connection, call The Brisbane Plumbers and we'll fix the leak straight away.
Should I Get A Frayed Hose Replaced?
If your hose is frayed, it's time to get it replaced. The flexible hose usually lasts around 10 years. Though they can for a longer or shorter period depending on the usage, quality and proximity to other pipes.
How To Prevent Your Flexible Hose From Leaking
Has your flexible hose started leaking? Or is it showing signs of damage? To avoid damage to your house, you should replace your flexible hose now. The leak will only get worse until it's replaced. When you ask The Brisbane Plumbers to replace your hose, ask for a higher quality hose, to avoid a future leak.
There are also two types of preventative measures you can take now to stop a bad leak in the future:
Flood stop valve
Mini stop taps
Flood stop valve
A flood stop valve attaches to the water connections with a hose and will immediately stop water flow if you get a leak.
Mini Stop Taps
Mini stop taps are another great way to help prevent flooding. They allow you to turn off the tap at the source of the leak, instead of having to turn the main water supply off. Unfortunately, because the mini stop taps are manually operated, if the tap ruptures while you are on holiday it won't help stop the damage.
When you are getting your hose replaced, ask The Brisbane Plumbers about our two preventative options. That way you can prevent a disaster from happening in the future.
Call The The Brisbane Plumbers For Advice
The Brisbane Plumbers are the best emergency plumber in Brisbane. We know that plumbing emergencies can happen at any time so we are available 24/7.
When replacing your flexible hose, we will always use the highest quality materials. That way you won't face a similar problem. We will also provide you with recommendations to prevent a future disaster, such as installing a flood stop valve.
The best part is, we provide upfront fixed pricing for all of our services. So there are no hidden bills. We will also reply within 60 minutes so you can rest assured knowing that your plumbing issue will be resolved quickly.