What is Water Hammer?
Before we answer how to stop water hammer, you need to know what water hammer is. Water hammer is the noise your plumbing system makes when you suddenly turn the tap off or your dishwasher/washing machine shuts off its water intake.
This noise occurs when you stop the water flow, as there is a change in water direction and water pressure causing a shock in the plumbing.
Why is Water Hammer bad?
When this shock occurs, the pipes move, making a noise as the pipes hit your walls, other pipes or framing.
The noise is just one negative of Water Hammer. If Water Hammer continues, it can lead to a serious plumbing issue.
When pipes move it can cause:
Joints to loosen
Pipes to burst
Damage to your pipe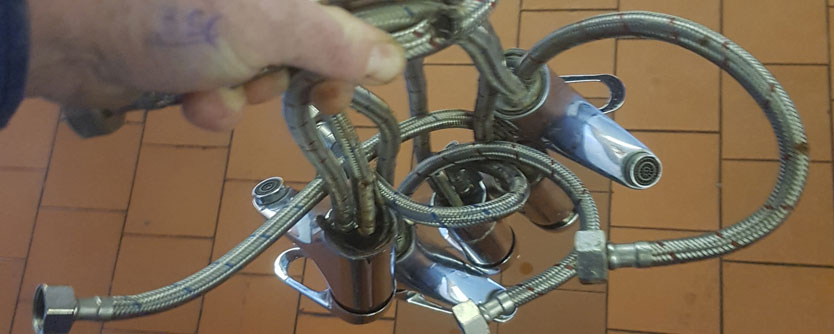 A burst pipe can cause major water damage to your house and electricals so you want to avoid this at all costs.
What pipes are susceptible to Water Hammer?
Water Hammer can occur in copper and PEX pipes.
How to diagnose Water Hammer?
Diagnosing Water Hammer isn't as simple as it may seem. An air pocket within your plumbing can also cause a similar sound. The difference between Water Hammer and air pockets is the timing of the sound. Air pockets make a sound when you turn the tap on, while Water Hammer makes a sound when you turn the tap off.
How do you fix Water Hammer and air pockets?
Water Hammer and air pockets are both difficult to repair. We recommend getting a Brisbane Plumber. It can save time and money for you and prevent future issues with your plumbing. Call The Brisbane Plumbers for professional advice and a fast quote on your water hammer issue.
Can you DIY the air pockets?
You can DIY the air pockets issue. To do this you will have to completely drain your water system and then refill it. As a tip, you should always fully open your taps and valves when emptying the system so that the water flows throughout your plumbing system.
It is possible to make mistakes in this process. We recommend that you contact a professional for all of your plumbing problems.
What can you do to prevent water hammer?
Tighten the pipe connections
Loose pipes are one of the major causes of Water Hammer. Tightening the connections to your pipes and other home appliances will assist in reducing moving pipes.
When tightening the pipes make sure to use Plumber's Tape to prevent leaks and burst pipes in the future.
Lower the water pressure
Your water pressure may also be too high, leading to greater shock waves when you turn the tap off.
If your water pressure is above 75 psi (500 kpa), then this may be worsening the water hammer. Your local plumber can test water pressure through a specifically designed gauge. If you don't know what your water pressure is, get a local plumber to check for you.
Install An Air Chamber
An air chamber is a short, vertical pipe that is installed near the pipe/valve causing the issue. Once installed, it will provide an "air chamber" for water to rush towards when the water flow is suddenly stopped. This absorbs the pressure and alleviates the issue.
An air chamber can be installed by a plumber, or purchased at your local plumbing store and installed yourself.
Install A Water Hammer Arrestor
There is a new gadget known as the DoustStop, which you can buy at bunnings. Although you can't use this gadget on a tap, you can install the DoustStop on a washing machine, dishwasher or showerhead to stop Water Hammer.
Do you want to get your plumbing issue resolved now?
Whether it's Water Hammer an air bubble or another plumbing issue, we will diagnose the problem and fix it for you.
We provide fast quotes with a 60-minute response time. So you will get your quote within 60-minutes of applying on the website.
As Brisbane Plumbers best emergency plumbers we are the best option for fast and reliable service. You will also get upfront fixed pricing so we can guarantee you will get no hidden costs and pay only for the service you get.
Call The Brisbane Plumbers now on 0450 932 850 or apply for a fast quote online now.
Where do you service?
We service all of Brisbane and the outer regions. Below are just some of the suburbs that are included in this area.
McDowall (4053)
South Brisbane (4101)
Hamilton (4007)
Fortitude Valley (4006)
Bulimba (4171)
Stafford Heights (4053)
Arana Hills (4054)
Keperra (4054)
Bald Hills (4036)
Taigum (4018)
Chermside West (4032)
Windsor (4030)
Salisbury (4107)
Norman Park (4170)
Highgate Hill (4101)
Alderley (4051)
Carina Heights (4152)
Stafford (4053)
Spring Hill (4004)
Wooloowin (4030)
Everton Hills (4053)
East Brisbane (4169)
Ascot (4007)
Fitzgibbon (4018)
Woolloongabba (4102)
Banyo (4014)
Red Hill (4059)
Teneriffe (4005)
Enoggera (4051)
Newmarket (4051)
Sandgate (4017)
Geebung (4034)
Hendra (4011)
Northgate (4013)
Gordon Park (4031)
Upper Kedron (4055)
Grange (4051)
Wilston (4051)
Balmoral (4171)
Nudgee (4014)
Deagon (4017)
Lutwyche (4030)
Bowen Hills (4006)
Gaythorne (4051)
Chelmer (4068)
Fairfield (4103)
Albion (4010)
Herston (4006)
Newstead (4006)
Virginia (4014)
Dutton Park (4102)
Yeerongpilly (4105)
Shorncliffe (4017)
Petrie Terrace (4000)
Tennyson (4105)
Pinkenba (4008)
Nudgee Beach (4014)
Eagle Farm (4009)